Dallas Voice Over Training
Whether you are brand new to voice-overs or a practicing voice over talent, contact us today to learn how Such A Voice can help you to achieve a career as a full-time working voice over professional.  Dallas voice over training opportunities can be found in the adult learning centers and community colleges that we work with throughout the metro area. We provide voice over training throughout the Midwest regions mentioned below as well as on the east and west coasts.
You can email  us at classinfo@suchavoice.com for details on attending our introductory voice over classes in various cities around the United States.  Throughout the United States, we teach two-hour courses on voice-overs.
Our Dallas  voice over training classes are also available  in :
Chicago, New York, Los Angles, Cleveland, Salt Lake City
Washington DC, San Diego, Seattle, and Boston
or
We also offer online webinars for those who want to learn without the inconvenience of leaving home.
Click Here to Register for Our Webinar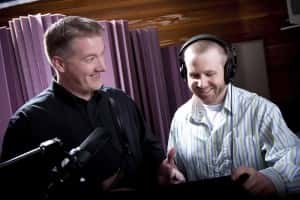 Course Description:
"You're on the Air: How to Really Make it in Voice-Overs!" is one of our 2-hour interactive voice over classes available through an online webinar or through one of the many midwest area adult learning centers and community colleges we work with. This introductory voice over class is designed to introduce interested students to the profession, allow them to ask questions, check out industry standard recording equipment, and even get to step up to the microphone and record a practice voice-over!
In this class, our professional vocal coaches and producers discuss how professionals work, basic voice-over technique what clients want to hear, and where new trends are headed. Our goal is to help you to see if the voice-over industry is right for you.
Again, we offer this class online several times per month for your convenience!   Click here to register. 
Get your voice professionally evaluated
We also provide a complimentary voice evaluations.  Discover if you have the vocal chords for this line of work. Our voice evaluation process is a simple and fun way to find out.  You will receive professional feedback and get the opportunity to speak with a voice-over coach about the voice over profession and your goals.  Click here to receive a complimentary voice evaluation.
Click here to receive a FREE voice evaluation
Get a professional voice over coach
We offer comprehensive coaching too.  This customized One-on-One Coaching is with an industry professional.  Whether you are new to voice-overs or looking to improve on your current success, contact us today to learn how Such A Voice can help you to achieve your voice-over dreams! info@suchavoice.com
Dallas Voice Over Training
Contact Us today