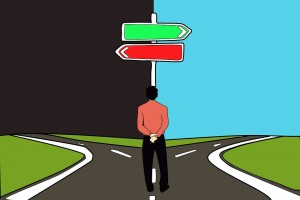 Figuring out your niche can become all-consuming when first starting out in the voice-over world, but it shouldn't have to be. The truth is you don't find your niche, your niche finds you. And often the factors that contribute to it are largely out of your control. With a career spanning nearly 20 years, I've learned that developing a voice-over niche is a long game, one filled with changes of direction, frustrations, and pleasant surprises. The key is to invest your energy in getting better as an actor and more astute as a marketer, and then following the road to see where it takes you.
When first starting out, I didn't know my niche – I was just trying to book some gigs! Sure, I had certain experiences and interests that attracted me to various opportunities over others, but I wanted to be a versatile actor who could tackle all kinds of projects and make a living doing it.
People have their own ways of defining what a niche is. A niche can be a general category of production: commercial, animation, promo, documentary narration, industrial narration, educational narration, and so on. It can imply a specific style such as straight vs. character or conversational vs. announcer. It can also relate to particular industries like Automotive, IT, or Food & Beverage, for which productions are made. One's particular niche can cut across these disparate designations. The last thing you want to do is limit yourself to a particular category or industry, but you also need to know what your limitations are so you're not wasting time auditioning for things that aren't a good match. Take Automotive, for example. Car company productions run the gamut – from broadcast TV/Radio ad campaigns, to interactive web videos, to orientation/educational videos in order to sell/market their products/services and orientate new owners. The productions may use similar voice talent across all of these projects or they may look for a diverse performer pool for each category. The key for the actor is to determine (if it's not already determined for them) if and what parts of this particular company's wide range of media they match up with.
Figuring this out takes time. Once you have the chops to perform well across these mediums, pay close attention to the specifications (specs) to see if they are a match. For example, the casting may call for someone young and edgy, but you are older and assuredly not edgy, so this job isn't in your niche. Learn what you do and don't excel at. If you keep auditioning for the same kinds of jobs, specs, or producer without any success, that's a good sign to change what you're going after. Even if you think something is in your wheelhouse, if the market keeps telling you otherwise, listen.
Throughout my VO career, I went down a couple of different paths before I could truly say I had found my niche. One was a documentary narrator. I was very fortunate to book an episode of A&E's 'Biography' series early on in my career. The producers liked me and over the next several years regular 'Biography' documentaries, as well as other gigs, followed. I thought the documentary category might be my calling card, even though the subjects and styles were different from one to the next. That turned out to be a bit premature.
As I look back over all the work I've done, the niche that really stands out is Tech. Technology companies and products/services is where I've had the most success. I've collaborated on large and small tech projects across commercial, promo, industrial, educational, audiobook, and text-to-speech (TTS) categories. Some of those credits include TV/Radio campaigns for Verizon , web videos for HP, training productions for the Navy, and as 'Alex,' the TTS voice of Mac OS. This good fortune is partly a result of this sector's growth over the last decade and because there is something about my voice, age, and style that appeals to clients casting tech projects. I'm grateful for these opportunities. I didn't set out years ago with this niche as my goal, but through hard work and perseverance, I was able to find my path over time. Work hard, stay motivated, and soon enough, you will find your path, too!
Check out our VO Pro Membership for more content like this!
---
Alan Schwartz has many years of experience in the voice-over industry. His voice has been heard in TV and radio commercials, promos, documentaries, animated films, video games, and much more. He has worked with the following brands/companies for national commercial campaigns: Sprite, Verizon, Yahoo!, Smirnoff Ice and TGI Friday's.  Check out Alan's website to see more of his work.
Comments
comments