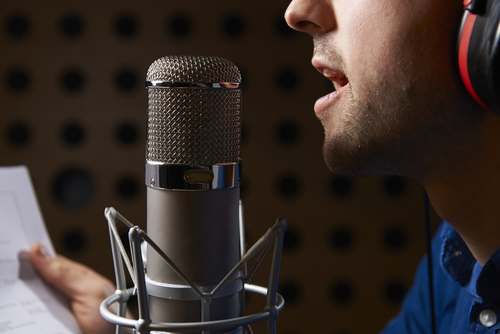 Do people tell you, "You have a great voice," "You should be on the radio," "Do audiobooks" or the like? It's more than a compliment. People are really telling you that your voice affects them in a deeply emotional way. Clients pay a lot of money for that very result in pursuit of building a lasting relationship with their target market. With the right training of your voice as a voiceover actor, you could establish a career that's incredibly rewarding, emotionally and financially. .Voice-over artists are in high demand for all kinds of narration and commercial work. Voice-over surrounds us: on-hold messages,, television, radio, animated characters, video games, commercials, explainer videos, e-learning and more. Having a marketable sound that can engage an audience is the key. Voice-over is a highly specialized skill that requires training, practice and tools, such as professionally produced demos. If you're looking to break into the business, voice-over classes from Such A Voice will give you the training and tools you need to begin your voiceover journey, and open the door to an exciting and fulfilling career that makes the most of your natural talents.
Our Voice-Over Classes Offer the Fullest Experience
Success in voice-over requires an understanding of what clients need, and how to deliver that in your performance. Voice talent needs expertise in performance, professional production and the how-tos of getting their sound into the market. Aspiring pros also need specialized tools of the trade. Enter Such A Voice. Fromnarration that includes audiobooks, video games, e-learning, commercials and more, Such A Voice is the source for what every aspiring voice-over talent needs to get started properly. Specially designed training and production programs are tailored to the student including instruction in voice acting technique, demo production, home studio setup and training, business and marketing. Such A Voice's renownedcoaches provide live instruction to you online, ensuring students schedule sessions around their busy lives. With additional resources such as Such A Voice's VO Pro Membership, voice-over classes, active communities online, and blogs written by pros who live voice-over every day. Up-and-comers looking for a voice-over school get an insider's view of how to embark on a successful career. As one of the original companies to formally organize voice-over education, training and demo production in the U.S., Such A Voice is the guiding source that helps new voice talent develop the skills and talents to become a professional.
Explore opportunities in the U.S. 
Such A Voice can help you kick-start and build your career no matter your location. Whether you're based in the Midwest, the Northeast, the Southeast or the West/Pacific Northwest region of the country, Such A Voice will be able to provide you with training from our accomplished professional instructors. This begins with a thorough assessment of your voice and acting abilities, to provide an honest evaluation based on your personal goals. When you work with Such A Voice, you will also receive lifetime support so you have the vital help you'll need once you're making your way in the industry.
Get to know our staff of voice coaches and the rest of our team by visiting Our Staff and Producers page, and read our blog for tons of great voice-over information. You will find that we are more than a voice acting school.
Call 802-275-0154 or Contact Us for more information.