Radio Voice-Over
"Don't miss out on the grand opening of the coolest restaurant in town. Fred's Fried Foods has fried chicken, french fries, fried dough, and some of the most delicious milkshakes ever (not fried, of course)! Come through our drive-thru on your long commute to work or swing by and stay a while. We are located on 25 Main Street in Louisville, Kentucky. See you soon!"
Could that be your voice pitching Fred's Fried Foods? There's lots of different roles you can dive into with radio voice-over. Such A Voice invites you to read more about how to get started as a professional radio voice-over talent.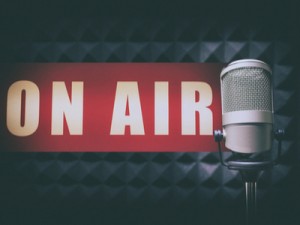 What is a Radio Voice-Over?
When you turn on the radio, you never know what you'll hear. It could be your favorite song, a promotional contest by the station, or a commercial about a new car dealership opening up in your town. Your favorite song keeps you in high spirits through your long commute, while the commercials and promos provide you with information delivered by the engaging voices of radio voice-over professionals. Radio has been around longer than television or film, and has created many of the first working opportunities for voice-over actors. This includes commercials, promos, and narrations. To get started as a professional voice-over actor for radio, it's necessary to get the proper radio voice-over training.
How to Get Started as a Radio Voice Actor
You can get started by taking radio voice-over classes to learn how to use voice, music, and other sound effects to relay the script in a way that aligns with the advertiser or radio station's vibe. The copywriter crafts the script so it targets a specific demographic. Once the script is in your hands, you have to emotionally connect with it and convey it in a convincing, honest way. That's just one of the many wonderful perks of doing radio voice-over work: you get to see how your voice affects your audience. As a professional radio voice-over actor, you have the ability to reach local, regional, and national audiences. No matter the size or type of station, you'll find that every radio station has its own demographic, personality, and format. Some radio formats include country, talk radio, rock, classical, and college radio. Finding a format that highlights your voice and speaks to your interests is a double win! You have the creative freedom to explore the best match for you. Do you want to learn more about this exciting industry?
Register for our fun and educational introductory webinar, "You're On the Air…How to Really Make it in Voice-Overs" today. 
How to Find Professional Work in Radio Voice-Over
Once you find what appeals to you, it's time to search for radio voice-over work. A lot of radio voice-over work consists of commercials, so it involves direct marketing to businesses and ad agencies in order to get the work. You must record a professional voice-over demo in order to market yourself. Your demo should present your voice in a manner that resonates with your target clients. It's important for your demo to be in the form of an MP3 file so you can easily email it to a potential client, post it on your website, or upload it to a casting/agency site.
What to Do After You've Gone Through Radio Voice-Over Training
So, you've gone through our voice-over training and have learned the steps needed to become  a voice actor, how to market yourself as a voice-over professional, and how to set up your home studio with proper recording equipment and software. So what's next? It's time to start looking for voice-over work and figure out how to establish yourself as a professional voice-over artist. Start recording your demo and get it ready to send it off to potential clients. Keep practicing your vocal techniques and engaging in Such A Voice's voice-over classes, workshops, teleconferences, and webinars. Don't be shy about putting yourself out there. Find which niche best suits you and go for it!
Such A Voice provides you with the right information and voice-over training that will you teach you how to market yourself, train your voice, find the necessary recording and production equipment and software, and record your demo. Most importantly, we are here for you before, during, and after you enroll in our programs. We offer lifetime support to ensure that you have assistance and encouragement throughout your voice-over career. If you think that radio could be your niche, consider starting your radio voice-over training with the professionals of Such A Voice. We can't wait to hear you on air!