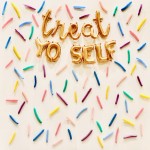 One of the best things about working for yourself is that you get to treat yourself as much as you want. But usually, we're
such taskmasters that we forget we need, nay DESERVE, treats. The truth is, we're just like kids, and treats and breaks can get us through tough days. So give yourself a treat, give yourself a break…and then get back on that hustle my friends! 
Today's video comes to you from my favorite place to give myself a break – King Spa Dallas! 
---
Caroline Cole is a writer, voice over artist, and yogi based in Dallas, TX. Follow along on IG (@carolinecolestories) or Twitter (@ccolestories).