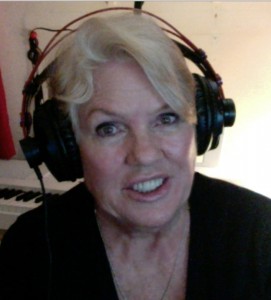 Recently, I had the pleasure of chatting with Such A Voice alumnus, and up and coming voice-over talent, Tobi Czumak. For this talent spotlight, we talked over the phone and by email about her experience with SAV and the beginning of her voice-over career. Tobi has some great stories and excellent advice. Below you'll find excerpts of our conversations.  But first, here's a bit more about Tobi:
"Tobi Czumak was born in Toronto, Ontario but was raised in Los Angeles during the golden age of Hollywood.
By the time Tobi arrived in L.A., her mother was already an established actress in tinseltown.  Hence, Tobi was surrounded during her youth by those movie-making icons we only hear or read about today. Tobi grew up to become an actress, singer, dancer, and choreographer, and has also performed in many musical comedies, and other stage and radio/TV productions.
Fate had her leaving the theatre for the business world and soon after she was married and raising a family.  Tobi has now entered another phase of her life and is making use of her extensive acting experience in the voice-over world."
SAV: What inspired you to get started in voice-over?  
T: In my heart, I still have a little theatre in me, but what really inspired me is the fact that I'm getting older and I'm not the type to quit working. So I thought, 'If this day job is done, well what can I do when I'm older? I can still do this when I'm 90.'
SAV: What challenges did you face when you first started looking for work?
T: When I started auditioning, I went onto www.voices.com. And like others, I'm not immune to being frustrated. You do a number of auditions and they don't even listen to some, for others  you're not the right voice, and you tend to get discouragedbut don't! I'm not one to be fully discouraged so I just hung in there and suddenly, I got a private invitation. And that's how I got into the B. Braun international ad. So I went in and  submitted my demos (which SAV did and I love), and then they gave me a script, which I recorded, and they liked it! We set up the live recording session from my home studio and they called in from Germany.But when I started, you'll laugh at this, I began reading and then said 'Hold on! Hold on!' and they were worried asking me 'What's wrong?' and I said 'Do you think I should hit the record button first?' Ha! And everyone started laughing. But then I did two takes, one slow and one fast. I normalized them. and the rest is history.
SAV: What's your home studio set-up like?
T: I have an office in the back of my house. It's not big, it's lined with bookshelves and it's where the computer is Well, I just I love it. I use a Kaotica Eyeball and it's fantastic. It's so quiet. I make sure I'm a ways away from the computer but the Eyeball cuts out all background noise. Actually, my coach had told me about that. I use a Neumann TLM 103 as a mic. And then for a computer, I'm spoiled. I use a Mac. I love my Mac and wouldn't go near a PC (laughs)! I use Twisted Wave for software and I just love it. I have Audacity as well but there's something about Twisted Wave that I can do everything with just the click of a button. I'm still on the Focusrite Scarlett Studio for my interface.
SAV: Is there anything you bring into the studio with you?
T: Throat Coat tea! And I drink a lot of Smartwater.
SAV: So, what's next for you?
T: Well, what I did do more recently is that I went into Deyan Audio, one of the bigger audiobook producers in the world. I thought, 'Well, they've won some Grammy's, why not shoot for the top?' After submitting a number of recordings, all the different things they wanted, they finally said, 'Ok! You can join our actors roster.' So hopefully, I'll be on their site soon. But really, this isn't something that you can't succeed at. You can, if you have the will. You just can't be discouraged, you never can. Something I want to emphasize is that I was delayed in getting started because of my day job, not because of my level of effort. Because the minute that I was able to start putting some effort into this, something happened! That's really important to know: If you do push, something will happen for you and it's usually positive!
The day after Tobi and I talked, she sent me the following advice for newcomers to the industry, and I felt it too good not to share.
"They should never be shy about telling anyone who will listen that they are a voice-over actor and are available anytime (handing them a business card helps).
While waiting for the doctor about a month ago, I mentioned to the nurse that I was in VO and she wanted to hear my demos.  So, I whipped out my iPhone and played them for her. When the doctor came in he asked who that was on my phone.  We told him and with that he offered me the job as his narrator for several videos he was putting together for his new practice!  . We shook hands sealing the deal and I handed them both my business card."
You can find out more about Tobi via her website, http://tobiczumak.com/
---
Did you enjoy this interview? Be sure to check out our past Talent Spotlights!