Here at Such A Voice, we bring together some pretty incredible professionals from all different parts of the world to provide our students with a top voice-over education. Our staff members have such a wide variety of backgrounds and unique personalities. From working VO actors starring in movies, video games, and national TV commercial campaigns, to producers spending their days working on voice-over demos as well as broadcast voice-over work, to copywriters, casting directors and many other industry skills in between! We genuinely love bringing our expertise and our experiences together to create the best programs for our students.
For this week's staff spotlight, we'd like to introduce you to Adam Michael Rose, our dialect and accent reduction coach.
---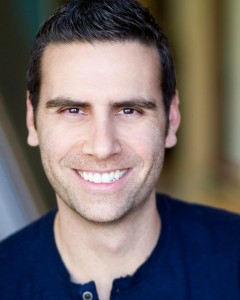 SAV: Hi Adam! Thanks for taking the time to chat. It's great to have you on the team as a dialect and accent reduction coach! Can you explain what your day-to-day responsibilities are in this position?
Rose: I have the pleasure and honor of being SAV's all around speech consultant. My job is to provide coaching and guidance to anyone who is looking to acquire an accent. This also frequently refers to learning a general American accent, otherwise known as accent reduction. I also provide resources and training for anyone looking to address any speech disorders or problems.
SAV: What inspired you to get into voice-over?
Rose: The voice-over world has always been a big draw for me. Our voices are capable of so many things, including transforming in chameleon-like ways into completely different moods, sounds, and feelings. The fact that there's opportunity for us as actors to use our incredibly capable voices every day is unbelievable.
SAV: Who is someone that you look up to in the voice-over industry?
Rose: The late, great Mel Blanc. I think we all grew up watching Bugs Bunny, Sylvester, Tweety, and the rest of the Merrie Melodies gang. I was probably around seven or eight years old when I started paying attention to how these cartoons were made. I would watch the names that rolled by during the credits. I remember ALWAYS seeing Mel Blanc's name. I quickly learned that he was the voice of just about ALL of my favorite cartoon characters!
SAV: What's the greatest thing that you've learned from the students you work with?
Rose: Hard work and unfaltering dedication really pay off. I've had the absolute pleasure of watching students completely transform their skill sets, mostly because of their own dedication to learning and practicing.
SAV: If you had two free hours each day, how would you use it?
Rose: I'd put myself on a structured, yet fun and flexible learning schedule. I'd start with learning as many new languages that I possibly could, and then I'd move onto cooking and baking.
SAV: How would your friends describe you?
Rose: The nice guy, enthusiast of all things 80's, and a human encyclopedia of Golden Girls quotes.
SAV: What's the greatest bit of advice anyone has given you?
Rose: The strongest nugget for me right now comes from Hamilton: talk less. This is actually kind of ironic given what we do, but I love the idea of listening. Listening to people's thoughts, feelings, information, problems, questions, and concerns. It really does seem that by doing more listening, we can avoid conflicts and tension.
SAV: If you had a time machine, what point in the past or future would you visit?
Rose: I'm still waiting for our world to become like the Jetsons — flying cars that fold up into briefcases, living in the sky, robot friends… Wait, I think we might be on the way there.
SAV: What are three things still left on your bucket list?
Rose: Skydiving, scuba-diving in the Great Barrier Reef, and making the family Thanksgiving turkey.
SAV: What was the best thing that has happened to you this year so far?
Rose: Going to Disneyland — no joke!
Tell us how we can make our blog even more valuable here.
Comments
comments