Oklahoma Voice Over Training
If you've ever been told "you have a nice voice" what you read here could change your life.  Right now the 15 billion dollar voice over profession is growing by leaps and bounds and the demand for quality voice over professionals has never been higher.  Here at suchavoice.com we provide the resources, education, and tools you need in order to successfully launch your own free- lance professional services as a voice over talent. We teach introductory courses, provided one on one coaching, teach people how to use the equipment and produce high quality voice over projects for commercials, video games, e-learning, audiobooks and more. Contact us today at info@suchavoice.com for more information.
Our Oklahoma voice over training classes are also available  in :
Chicago, Dallas, Salt Lake City, San Diego, Los Angles,  Denver, New York, Boston,
Seattle, San Francisco
or
We also offer online webinars for those who want to learn without the inconvenience of leaving home.
As an alternative to our Oklahoma voice over training click this link.
Click Here to Register for Our Webinar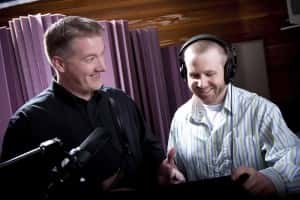 Course Description:
If you are seeking a profession that you can do on your own turf, on your own time, and on your own terms "You're On the Air. How to really make it in voice overs" is the class for you.  Suchavoice.com offers this class in adult learning centers and community colleges all around America to teens and adults who are looking for a professional business opportunity that uses their voice. In this class we discuss the voices you hear in commercials, documentaries, and in video games.  We address how these voices are chosen, and how the voice over talent provides the recordings that go into the games and commercials.
We also offer this course in web-based seminars several times per month. !   Click here to register. 
Get your voice professionally evaluated
We also provide a complimentary voice evaluations.  Discover if you have the vocal chords for this line of work. Our voice evaluation process is a simple and fun way to find out.  You will receive professional feedback and get the opportunity to speak with a voice-over coach about the voice over profession and your goals.  Click here to receive a complimentary voice evaluation.
Click here to receive a FREE voice evaluation
Get a professional voice over coach
We offer comprehensive coaching too.  This customized One-on-One Coaching is with an industry professional.  Whether you are new to voice-overs or looking to improve on your current success, contact us today to learn how Such A Voice can help you to achieve your voice-over dreams! info@suchavoice.com
Oklahoma Voice Over Training
Contact Us today