Last month I wrote a blog post outlining and unpacking a few tips I've learned from working as I travel, and this week I'm excited to take you along for the ride! Last fall, my local artists' community (Arts Mission Oak Cliff – come on by if you're in the Dallas area!) got really excited about the idea of an artists' retreat somewhere here in Texas – a few days away from the hustle and bustle of the city, where we could hear the birds and watch gorgeous sunsets. 
And huzzah and hooray, we were able to make that dream a reality last weekend in the Texas Hill Country. Since I led yoga all weekend at the retreat, I wanted to arrive a few days early, sink into the rhythm of the space, relax and have my own "me time" before everyone arrived on Friday. Luckily, I didn't even have to take a day off work to do so.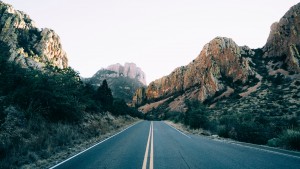 In this "Working Wednesday" I take you along for the first half of my week: On Monday, I pack up my studio and travel down south. Tuesday I hunt for Wi-Fi to take some meetings and clarify a few new projects with clients in the morning, then head out to explore some hiking trails at some nearby state parks before setting up my studio later in the afternoon, recording a project, turning it in and relaxing on the porch with my well-deserved glass of wine. Wednesday morning, I sleep in luxuriously, have breakfast on the porch and start my day with a local hike before heading in town to check emails, finish this project and continue working on some copywriting deliverables. 
While many gatherings and events were being canceled across the country to keep us all safe, I couldn't help but remember how extremely fortunate I am to be able to work from home (or wherever) on my own schedule. What a wonderful job it is to be able to create things and collaborate with others while still staying healthy!
I hope you enjoy this sneak peek into my week. I'm all about being flexible with my work time, making sure I get everything done BUT ALSO remembering to enjoy wherever I get to be. 
Want some tips on setting up a home studio on the go? Check out this blog post for pointers!